OVG'S INDEX

For The Best Information On The Rarity On Atari Items Online:

Is The Source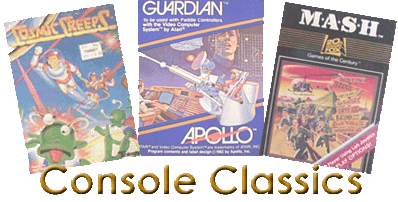 Here is another great source for classic Atari & others
Wayne is an honest businessman & we rate him AA+++

Try Fuj's 3DO Page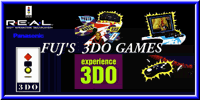 A Great Source For Hard-To-Find 3DO Games
Tell Him Orphanvideogames Link Sent Ya' !

Search The Web From Your Favorite Classic Video Games

MORE QUIK LINKS COMING SOON ! IF YOU LIKE A QUIK-LINK HERE ON OUR HOMEPAGE , EMAIL US



<![if !vml]>

<![endif]>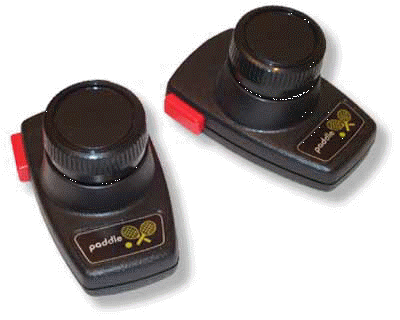 It's a nice rainy Fall Sunday afternoon. Your cable is out and you can watch the NY Jets take another serious beating so you decide you can enjoy a fine game of Breakout on your 2600.
You set up and ready to go just to find out your paddles are "jumpy" and have the "jitters" . You keep missing and you just scored a new high in low scores in the game. It drives you nuts, but RELAX !! There is an easy remedy to cure your Atari paddle controllers.
Nothing worse than shaking paddles but the steps ahead should be an easy resolve to the problem if it isn't that serious a problem (which it often isn't).
Here is a list of what you will need for cleaning & repairing them. I included Radio Shack Catalog Numbers for the items you have to obtain but you can use an equivalent :
| | |
| --- | --- |
| | #2 Phillips Screwdriver |
| | Nonflammable Dust Remover Spray (RS Cat.# 64-4350) |
| | Tuner / Control Cleaner / Lubricant (RS Cat.# 64-4315) |
| | Lint free cleaning cloth |
| | Small container to keep small parts in |
| | A pair of safety glasses to keep spray from hitting your eyes |
| | Protective covering for your work area |
Set up your work area so you are comfortable and put your safety glasses on and follow the easy steps below ! Click on one of the pictures to see a full view of the procedures !
Take you Atari paddle controllers and remove the 2 screws on the back of the controller. Always work on 1 paddle at a time. This is important because you don't want to work on both and lose parts.

Remove back cover of the paddle. BE CAREFUL NOT TO DROP THE SMALL SPRING FOR THE PADDLE'S ACTION BUTTON ! Take the auction button and button spring and place it in the small container for safe keeping .

Take your Dust Remover Spray and clean the inside of the controller and pot (The Rheostat ) to remove dust and foreign matter. Remember some of these controller have over 20 years of dust in them !

Looking at the pot, you will see a small nylon circle in the center of it . Take the Tuner / Control Cleaner / Lubricant spray and give a few blast of the cleaner in the center of it (Watch your eyes and remember the safety glasses !) . This will clean and lube the contacts of the pot.

Rotate the paddle controller knob back and forth for about 30 seconds or so. This will work in the cleaner on the contacts and remove the ground in dirt on them too.

Put the action button and spring back in the controller and place the back of the controller back on. Insert the 2 screws in the hole and tighten to just a snug fit. Make sure all the color wires from the controller are inside the unit before tightening. Not doing so might crimp or cut wires causing a broken circuit.

Repeat steps 1 thru 6 for the other paddle !
There you go ! Now just plug in your paddles and try out one of your favorite Atari Paddle compatible games & try them out !
You should have "jitter-free" paddles and for a fraction of the cost of a new pair. Also you will know have to clean them in the future also !
Sometimes the paddle are in more serious repair like replacing the pots or "WYE" cables. In this case you will have to know basic soldering skills and will need replacement parts. These parts are available her at Orphanvideogames.com . To see the page of replacement parts for controllers and consoles click here !
I hope this helps you out . Future upcoming fix-its with be for Atari 2600 Joystick , Colecovision Standard & Super Action Controllers , making a Vectrex controller from a Sega Genesis Controller and more !
| Home | Replacement Parts |