OVG'S INDEX

For The Best Information On The Rarity On Atari Items Online:

Is The Source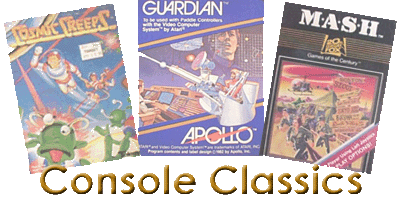 Here is another great source for classic Atari & others
Wayne is an honest businessman & we rate him AA+++

Try Fuj's 3DO Page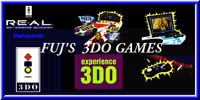 A Great Source For Hard-To-Find 3DO Games
Tell Him Orphanvideogames Link Sent Ya' !

Search The Web From Your Favorite Classic Video Games

MORE QUIK LINKS COMING SOON ! IF YOU LIKE A QUIK-LINK HERE ON OUR HOMEPAGE , EMAIL US



The following are System and Owner's Manuals for 1st Generation system.
All are original printings , not reproductions or copies.
All are in mint condition unless noted.
Atari 2600 Owner's Manuals
| | |
| --- | --- |
| | Part# C012250 Rev.2 ©1978 Black Cover w/ White Writing . For 6 Button Consoles & Heavyweights ....... $5.00 |
| | Part# C012250 Rev.3 ©1978 Black Cover w/ Yellow Writing . For 6 Button Consoles & Heavyweights , Wrinkles On Cover ....... $4.00 |
| | Part# C015394 Rev.1 ©1980 White Cover w/ Red Writing . For 4 Button VCS Consoles (CX2600A) ....... $5.00 |
| | Part# C010962 Rev. 0 © 1977 Sears. Roebuck & Co. Sears Cartridge Telegames System Video Arcade Manual for Model 637.99743 VERY VERY RARE .................... $15.00 |
| | Part# C020224 Rev. 1 © 1983 Atari, Inc. For Graphics & Layout Only Label. Manual for "Darth Vader or Black Jack Console" (CX2600AR) ............................... SOLD OUT !! |
| | Part# C021789 Rev. A © 1983 Atari, Inc. Atari Game Cartridge Limited 90 Day Warranty Card ........................ $1.00 |
| | Part# C016502 Rev. 3 © 1980 Atari, Inc. Atari Super Service Card ........................ $2.00 |
| | Part# C017503 Rev. 2 © 1981 Atari, Inc. Atari Toll Free 800 Number Card ........................ $1.00 |
Atari 5200 Owner's Manuals
| | |
| --- | --- |
| | Part# C019277 Rev.1 ©1982 Black Cover w/ White Writing . For 4 Port Consoles ....... $7.00 |
Atari 7800 Prosystem Owner's Manuals
| | |
| --- | --- |
| | Part# C024819-001 Rev.A ©1984 Grey & White Cover w/ White & Red Writing . ....... $5.00 |
| | Part# C024819-001 Rev.B ©1987 Grey & White Cover w/ White & Red Writing . ....... $5.00 |
Colecovision Owner's Manuals
| | |
| --- | --- |
| | Guide No. 78200A © 1982 Coleco Industries , Inc. ........... $5.00 |
| | Guide No. 56619A Canada Manual, One Side English & Other Side French © 1982 Coleco Industries , Inc. ................. $7.00 |
| | Guide No. 91657A Expansion Module Owner's Manual , © 1982 Coleco Industries , Inc. ............................................ $7.00 |
| | Guide No. 74888 Color Tuning Instructions ................ $2.50 |
| | Guide No. 78075B or 78075C Coleco Cartridge Warranty Registration Mail In Card .................................................. $1.50 |
| | Guide No. 12299A Canada Manual, One Side English & Other Side French For Super Action Controllers © 1983 Coleco Industries , Inc. ................. $7.00 |
| | Guide No. 91877A Super Action Controllers © 1983 Coleco Industries , Inc. ........... $5.00 |
| | Coleco Cartridge Warranty Registration Mail In Card For Super Action Controllers .................................................. $1.50 |
Magnavox Odyssey˛ Owner's Manuals
| | |
| --- | --- |
| | COMPLETE ODYSSEY˛ OWNER'S PAPERS ! Includes: Owner's Manual Part# IB3747-1 ©1980 , Extended Warranty Mail In , Limited Warranty Sheet , Service Center Sheet & 70 Column Warranty Computer Card ............ $10.00 |