OVG'S INDEX

For The Best Information On The Rarity On Atari Items Online:

Is The Source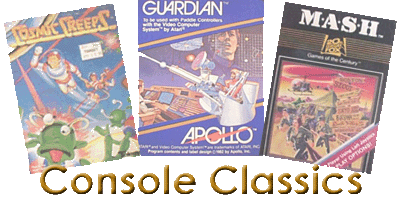 Here is another great source for classic Atari & others
Wayne is an honest businessman & we rate him AA+++

Try Fuj's 3DO Page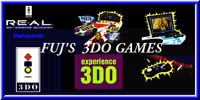 A Great Source For Hard-To-Find 3DO Games
Tell Him Orphanvideogames Link Sent Ya' !

Search The Web From Your Favorite Classic Video Games

MORE QUIK LINKS COMING SOON ! IF YOU LIKE A QUIK-LINK HERE ON OUR HOMEPAGE , EMAIL US



OUR DREAMCAST PAGE LAST UPDATED 02/08/03
<![if !vml]>
<![endif]>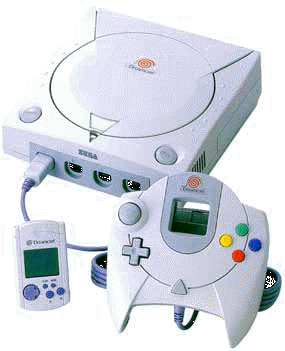 The Sega Dreamcast's CPU is a customized Hitachi SH4 RISC (Reduced Instruction Set Chip) which provides 128-bit performance and runs at 200MHz. It has been modified by Sega and Hitachi to enhance its floating-point operations capabilities which are important for high-output 3D calculations. The SH4 processor can perform floating-point operations four times faster than the Intel Pentium II chip.

NEC and Videologic combined to develop the Power VR which drives the Dreamcast's graphics engine. The Power VR boasts a peak output of more than three million polygons per second and adds customized anti-aliasing technology to the platform. High-resolution fog and water effects and a more vivid appearance of light and shadow are among the refined graphics that sets the Dreamcast system apart from other consoles.

Yamaha is providing a dedicated 3D Super Intelligent Sound Processor for the Dreamcast system. It is a chip is capable of producing 64 channels of sound. Sega also teamed with Yamaha to develop a customized 12x GD-ROM drive for Dreamcast. The new drive is intended to dramatically minimize the standard loading time for a disc-based console. This advantage will encourage the creation of more complex games and larger playing fields.

The Windows CE operating system that Microsoft specially developed for the Dreamcast has been optimized to run DirectX applications. The primary motive for creating this specialized software was to simplify the process of game developing for third party companies. Even with that, it couldn't stand up to the PS2 at the time.
Now that Sega discontinued their home hardware division. This system is becoming quite a collectable.
<![if !vml]>

<![endif]>
| | |
| --- | --- |
| | Complete Dreamcast System.... Includes tested Dreamcast Console , Power Cord , A/V Cable, 2 CONTROLLERS ! , and a CRAZY TAXI 2 game to get you started ! ...................... $65.00 |
<![if !vml]>

<![endif]>
| | |
| --- | --- |
| | Dreamcast Keyboard, NEW ................................................................................... $12.50 each |
| | Dreamcast Fishing Controller , NEW .................................................................. $16.00 each |
| | Dreamcast Controllers , NEW ................................................................................ $15.00 each |
| | Dreamcast Controllers , USED , TESTED ............................................................ $9.00 each |
| | Mad Catz Flashing Vibe Packs , NEW ................................................................... $9.99 each |
| | Microphone Pack , USED , TESTED .................................................................... $9.99 each |
| | Dreamcast VMU Packs, USED, TESTED, Our choice of color .................... $12.50 each |
<![if !vml]>

<![endif]>
| | |
| --- | --- |
| | Alone In The Dark - The New Nightmare BRAND NEW FACTORY SEALED (Mature) $20.00 |
| | Slave Zero (Teen) $12.50 |
| | Sega Marine Fishing (Everyone) $8.00 |
| | Crazy Taxi (Teen) $10.00 |
| | Crazy Taxi 2 (Teen) $15.00 |
| | Seaman (Teen) $9.00 |
| | Stupid Invaders (Teen) $12.00 |
| | Carrier (Mature) $15.00 |
| | Atari Anniversary Pack (Everyone) $9.00 |