OVG'S INDEX

For The Best Information On The Rarity On Atari Items Online:

Is The Source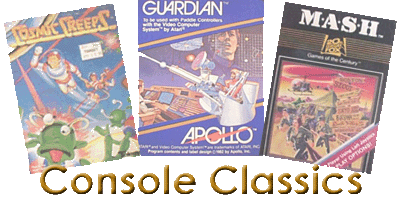 Here is another great source for classic Atari & others
Wayne is an honest businessman & we rate him AA+++

Try Fuj's 3DO Page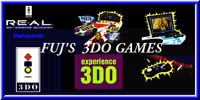 A Great Source For Hard-To-Find 3DO Games
Tell Him Orphanvideogames Link Sent Ya' !

Search The Web From Your Favorite Classic Video Games

MORE QUIK LINKS COMING SOON ! IF YOU LIKE A QUIK-LINK HERE ON OUR HOMEPAGE , EMAIL US



ATARI 2600 BOXED 3rd PARTY GAMES
Last Update 03/21/02
Remember , Games w/ No "ON HAND" Quantity Are Out Of Stock But Be Sure To Come Back For Updates!!!!
Imagic Boxed Games
| Catalog Number | Cartridge Name | On Hand | Price |
| --- | --- | --- | --- |
| IA3000 | Trick Shot | | |
| IA3200 | Demon Attack | 1 | $7.00 |
| IA3201 | Star Voyager | | |
| IA3600 | Riddle of the Sphinx | 1 | $8.00 |
| IA3201 | Star Voyager | | |
| IA3400 | Firefighter | | |
| IA3203 | Atlantis | 2 | $7.00 |
| IA3208 | Laser gates (RARE) | 1 | $18.00 |
Data Age Boxed Games
| Catalog Number | Cartridge Name | On Hand | Price |
| --- | --- | --- | --- |
| DA1001 | Encounter At L-5 | | |
| DA1002 | Warplock | | |
| DA1006 | Journey Escape | 1 | $15.00 |
| DA1005 | Bugs | | |
| DA1003 | SSSnake | 1 | $15.00 |
Sear's Tele-Games Boxed Games
| Catalog Number | Cartridge Name | On Hand | Price |
| --- | --- | --- | --- |
| 699805 | Black Jack | 1 | $12.00 |
| 4975153 | Space Invaders | 1 | $10.00 |
| 4975163 | Asteroids | 1 | $10.00 |
| 4975185 | Pac-Man | 1 | $10.00 |
| 4975121 | Golf | 1 | $12.00 |
| 4975102 | Target Fun | 3 | $12.00 |
| 4975113 | Basketball (Fair -- box) | 1 | $5.00 |
| 4975109 | Gunslinger (Fair -- box) | 1 | $5.00 |
| 699808 | Math (Gatefold , Super Rare) | | |
| 699811 | Spelling (Super Rare) | 1 | $25.00 |
| 699806 | Pong Sports (Gatefold Box , Rare) | 1 | $20.00 |
| 699819 | Baseball | 1 | $12.00 |
| 4975159 | Stellar Track (RARE) | 2 | $22.50 |
| 4975182 | Rare (Complete w/ 2 Driving Controllers) | 1 | $30.00 |
| 4975187 | Star Raiders (With Video Touch Pad) | 1 | $17.00 |
| 4975166 | Millsile Command | 1 | $12.00 |
| 4975103 | Speedway II | 1 | $15.00 |
| 4975186 | Defender | 1 | $12.00 |
Froggo Boxed 2600 Games
| Catalog Number | Cartridge Name | On Hand | Price |
| --- | --- | --- | --- |
| FG1009 | Sea Hunt | 1 | $15.00 |
Spectravision Boxed 2600 Games
| Catalog Number | Cartridge Name | On Hand | Price |
| --- | --- | --- | --- |
| SA-202 | Planet Patrol | 1 | $18.00 |
CBS Video Games Boxed 2600 Games
| Catalog Number | Cartridge Name | On Hand | Price |
| --- | --- | --- | --- |
| 80000 | Wizard Of Wor | | |
| 90000 | Gorf | 1 | $15.00 |
M Network Boxed Games
| Catalog Number | Cartridge Name | On Hand | Price |
| --- | --- | --- | --- |
| 5659 | Space Attack | 1 | $9.00 |
| 5664 | Frogs & Flies | 1 | $11.00 |
| 4648 | Kool-Aid Man | | |
| 5662 | Tron Deadly Discs | 1 | $10.00 |
| 5687 | International Soccer | | |
| 5666 | Astroblast | 2 | $5.00 |
| 5661 | Armor Ambush | 1 | $8.00 |
| 5667 | Dark Caverns | 1 | $10.00 |
| 5658 | SC Football | 1 | $8.00 |
| 5665 | SC Baseball | 1 | $8.00 |
Parker Bros. Boxed Games
| Catalog Number | Cartridge Name | On Hand | Price |
| --- | --- | --- | --- |
| 5300 | Frogger | | |
| 5360 | Q*bert | | |
| 5330 | Reactor | | |
| 5370 | Popeye | | |
| 5060 | Star Wars - Return Of The Jedi Death Star Battle | | |
| 5050 | Star Wars - the Empire Strikes Back | 1 | $7.00 |
| 5820 | Mr. Do's Castle (UR - A Holy Grail Of 2600 Games) | | |
| 5080 | Gyruss | | |
Sega Boxed Games
| Catalog Number | Cartridge Name | On Hand | Price |
| --- | --- | --- | --- |
| 01-001 | Tac-Scan | | |
| 003-01 | Thunderground | 1 | $15.00 |
Vidtec / U.S. Games Atari 2600 Boxed Games
| Catalog Number | Cartridge Name | On Hand | Price |
| --- | --- | --- | --- |
| VC 1003 | Word Zapper | 2 | $14.00 |
| VC 1002 | Sneak'n Peak | 1 | $15.00 |
| VC 1001 | Space Jockey | 4 | $8.00 |
| VC 1009 | Towering Inferno | 2 | $13.50 |
| VC 1004 | Commando Raid | 2 | $15.00 |
| VC2003 | Eggomania (No Instructions) | 1 | $18.00 |
Epyx Atari 2600 Boxed Games
| Catalog Number | Cartridge Name | On Hand | Price |
| --- | --- | --- | --- |
| 08919R | Winter Games | 1 | $12.50 |
| Back To Atari 2600 Main | Atari 2600 Loose games | Back To OVG Homepage |