OVG'S INDEX

For The Best Information On The Rarity On Atari Items Online:

Is The Source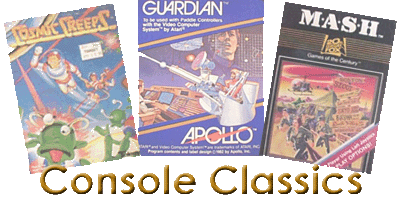 Here is another great source for classic Atari & others
Wayne is an honest businessman & we rate him AA+++

Try Fuj's 3DO Page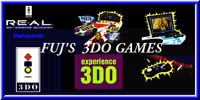 A Great Source For Hard-To-Find 3DO Games
Tell Him Orphanvideogames Link Sent Ya' !

Search The Web From Your Favorite Classic Video Games

MORE QUIK LINKS COMING SOON ! IF YOU LIKE A QUIK-LINK HERE ON OUR HOMEPAGE , EMAIL US



<![if !vml]>
<![endif]>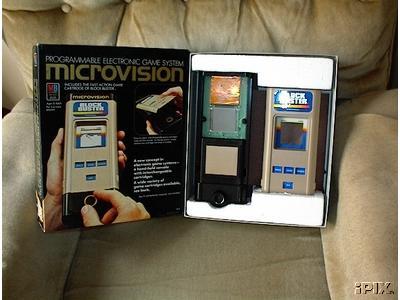 Remember back in 1979, long before Nintendo's GameBoy. There was a handheld game unit made by Milton-Bradley called Microvision. Microvision was long before its time. Using a LCD block-type screen , it had great game play and good games.
We use our Microvision often. Now here is a chance to get one of the first generation's most sought after game units. Microvision is becoming quite scarce these days. We have a few used and tested units and games for sale on here on Orphan Video Games !

<![if !vml]>
<![endif]>
Used Microvision System by Milton Bradley. This original hand-held system come with:
| | |
| --- | --- |
| | One Microvision Hand Base |
| | One Block Buster Game Cartridge |
| | Owner's Manual |
| | Warranty Card |
| | Game Manual |
| | Game Catalog |
These Microvision units are used but come with original boxes and been tested. LIMITED SUPPLY !
Price: $60.00

<![if !vml]>
<![endif]>
These game cartridge come in their original boxes and are used. They tested well and are in Very Limited Supply !!
| | |
| --- | --- |
| | Bowling - $15.00 |
| | Cosmic Hunter - SOLD |
| | Star Trek Phaser Strike - $25.00 |
| | Baseball - $15.00 |
| | Pinball - $20.00 |
| | Connect Four - $15.00 |
| | Sea Duel - $25.00 |
| | Alien Raiders - $25.00 |


Click the Cyborg to E-Mail us