OVG'S INDEX

For The Best Information On The Rarity On Atari Items Online:

Is The Source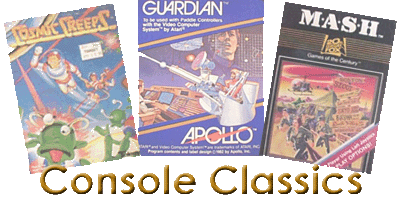 Here is another great source for classic Atari & others
Wayne is an honest businessman & we rate him AA+++

Try Fuj's 3DO Page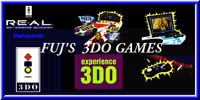 A Great Source For Hard-To-Find 3DO Games
Tell Him Orphanvideogames Link Sent Ya' !

Search The Web From Your Favorite Classic Video Games

MORE QUIK LINKS COMING SOON ! IF YOU LIKE A QUIK-LINK HERE ON OUR HOMEPAGE , EMAIL US



COMPLETE , BOXED INTELLIVISION GAMES

COMPLETE INTELLIVISION GAMES COME WITH GAME CARTRIDGE , 2 OVERLAYS AND MANUAL. ALL ARE USED GAMES UNLESS NOTED
INVENTORY UPDATED 3/03/02
Remember , Games w/ No "ON HAND" Quantity Are Out Of Stock But Be Sure To Come Back For Updates!!!!
The following games are factory sealed , brand new !! Some of the title are very rare to "ER" games !
| Catalog Number | Cartridge Name | On Hand | Price |
| --- | --- | --- | --- |
| 5303 | Royal Dealer | 3 | $10.00 |
| 1123 | Horse Racing | 1 | $12.00 |
| 5161 | Star Strike | 1 | $15.00 |
| 5304 | Reversi | 1 | $15.00 |
| 5638 | Sharp Shot | 1 | $15.00 |
| 3760 | Triple Action | 1 | $15.00 |
| 4549 | Burgertime | 1 | $12.00 |
| 4436 | Buzz Bombers (RARE) | | $20.00 |
| M-004-04 | The Dreadnaught Factor (VERY RARE) | 1 | $30.00 |
| IM7605 | Tropical Trouble (ER) | | $45.00 |
| 3605 | Astrosmash | 1 | $9.00 |
MATTEL OR INTV GAMES
| Catalog Number | Cartridge Name | Manufacturer | On Hand | Price |
| --- | --- | --- | --- | --- |
| 1123 | Horse Racing | Mattel | 3 | $8.00 |
| 2611 | Las Vegas Poker / BJ | Mattel | 12 | $6.00 |
| 1118 | Las Vegas Roulette | Mattel | 2 | $10.00 |
| 4549 | Burgertime | Mattel | 5 | $10.00 |
| 5788 | Vectron | Mattel | 3 | $10.00 |
| 5149 | Utopia | Mattel | 2 | $10.00 |
| 1120 | Checkers | Mattel | 1 | $15.00 |
| 3412 | Chess | INTV | 1 | $15.00 |
| 5356 | Pinball | INTV | | $20.00 |
| 4436 | Buzz Bombers | INTV | | $22.00 |
| 3411 | Motocross | INTV | | $25.00 |
| 4438 | Loco-Motion | INTV | 1 | $15.00 |
| 8000 | Pac-Man | INTV | | $30.00 |
| 4437 | Mission X | Mattel | 2 | $12.00 |
| 1122 | Word Fun | Mattel | 2 | $13.00 |
| 2613 | Math Fun | INTV | 1 | $13.00 |
| 3416 | Space Spartans (Voice) | Mattel | 4 | $9.00 |
| 5638 | Sharp Shot | INTV | 1 | $10.00 |
| 5392 | Tron's Maze-A-Tron | Mattel | 3 | $10.00 |
| 2610 | Football | INTV | 1 | $8.00 |
| 5301 | Frog Bog | Mattel | 2 | $8.00 |
| 5161 | Star Strike | Mattel | 2 | $8.00 |
| 5136 | Space Hawk | Mattel | 4 | $7.00 |
| 3759 | Space Armada | Mattel | 6 | $7.00 |
| 3605 | Astrosmash | Mattel | 8 | $7.00 |
| 1818 | Sea Battle | Mattel | 3 | $10.00 |
| 1121 | Armor Battle | Mattel | 2 | $10.00 |
| 2612 | Space Battle | Mattel | 6 | $10.00 |
| 3760 | Triple Action | Mattel | 2 | $10.00 |
| 3758 | Snafu | Mattel | 2 | $10.00 |
| 5637 | Lock N Chase | Mattel | 5 | $8.00 |
| 2610 | NFL Football | Mattel | 5 | $8.00 |
| 2614 | MLB Baseball | Mattel | 5 | $8.00 |
| 2615 | NBA Basketball | Mattel | 1 | $8.00 |
| 1114 | NHL Hockey | Mattel | 1 | $8.00 |
| 1816 | PGA Golf | Mattel | 3 | $8.00 |
| 1683 | NASL Soccer | Mattel | 1 | $10.00 |
| 3333 | PBA Bowling | Mattel | 3 | $10.00 |
| 1814 | Tennis | Mattel | 3 | $8.00 |
| 1817 | Skiing | Mattel | 2 | $8.00 |
| 1113 | Auto Racing | Mattel | | $10.00 |
| 1819 | Boxing | INTV | | $10.00 |
| 1819 | Boxing | Mattel | 3 | $12.00 |
| 3884 | B-17 Bomber (Voice) | Mattel | 2 | $8.00 |
| 4675 | Kool-Aid Man | Mattel | 2 | $20.00 |
| 5136 | Space Hawk | INTV | 1 | $10.00 |
| 5391 | Tron Deadly Discs | Mattel | 3 | $10.00 |
| 5305 | Night Stalker | Mattel | 3 | $9.00 |
| 3410 | Advanced Dungeons & Dragons | Mattel | 1 | $9.00 |
| 5393 | Tron Solar Sailor (VERY RARE) | Mattel | 1 | $20.00 |
| 5303 | Royal Dealer | Mattel | 1 | $6.00 |
| 2614 | Big League Baseball (Rare) | INTV | 1 | $14.00 |
| 5161 | Star Strike | INTV | 1 | $10.00 |
| 1817 | Skiing | INTV | 1 | $10.00 |
| 9000 | Commando (Super Rare) | INTV | 1 | $25.00 |
| 3883 | Bomb Squad (Voice) | Mattel | 1 | $12.50 |
| 5787 | Shark ! Shark ! (Rare) | INTV | | $25.00 |
Sears Boxed Intellivision Games
| Catalog Number | Cartridge Name | On Hand | Price |
| --- | --- | --- | --- |
| 4975231 | Star Strike | 1 | $14.00 |
| 4975221 | Boxing | 1 | $16.00 |
| 4975212 | Space Battle | 1 | $14.00 |
| 4975201 | Space Hawk | 1 | $16.00 |
Parker Bros. Boxed Games
| Catalog Number | Cartridge Name | On Hand | Price |
| --- | --- | --- | --- |
| 6300 | Frogger | 2 | $9.00 |
| 6370 | Popeye | | $10.00 |
| 6360 | Q*bert | 1 | $10.00 |
| 6050 | Star Wars, Empire Strikes Back | | $20.00 |
Activision Boxed Games
| Catalog Number | Cartridge Name | On Hand | Price |
| --- | --- | --- | --- |
| M-002-02 | Pitfall ! | 1 | $8.00 |
| M-004-04 | The Dreadnaught Factor | | $18.00 |
Imagic Boxed Games
| Catalog Number | Cartridge Name | On Hand | Price |
| --- | --- | --- | --- |
| IM7200 | Demon Attack | 1 | $10.00 |
| IM7603 | Dragonfire | 1 | $10.00 |
| IM7203 | Atlantis | 1 | $10.00 |
| IM7604 | Ice Trek | 1 | $20.00 |
| IM7612 | Safecracker | 1 | $15.00 |
| TM7601 | Microsurgeon | 1 | $15.00 |
| IM7401 | Beauty & The Beast | 1 | $10.00 |
Coleco Boxed Games
| Catalog Number | Cartridge Name | On Hand | Price |
| --- | --- | --- | --- |
| 2471 | Donkey Kong | 2 | $8.00 |
| 2488 | Carnival | 1 | $10.00 |
l Click here for more Intellivision boxed Games l OVG Home l