OVG'S INDEX

For The Best Information On The Rarity On Atari Items Online:

Is The Source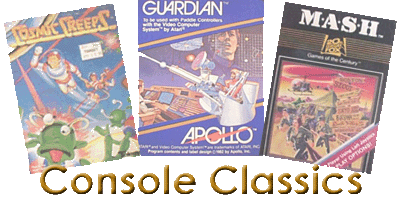 Here is another great source for classic Atari & others
Wayne is an honest businessman & we rate him AA+++

Try Fuj's 3DO Page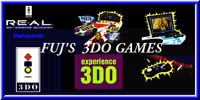 A Great Source For Hard-To-Find 3DO Games
Tell Him Orphanvideogames Link Sent Ya' !

Search The Web From Your Favorite Classic Video Games

MORE QUIK LINKS COMING SOON ! IF YOU LIKE A QUIK-LINK HERE ON OUR HOMEPAGE , EMAIL US



Atari 7800 Games
The following games are boxed and sealed, brand new unless noted.
Updated 03/03/02
| Catalog Number | Cartridge Name | On Hand | Price |
| --- | --- | --- | --- |
| CX7801 | Centipede | | $8.00 |
| CX7802 | Asteroids | 1 | $8.00 |
| | | | $0.00 |
| | | | $0.00 |
| CX7805 | Galaga | | $8.00 |
| CX7805U | Galaga (Complete, Used) | 1 | $6.00 |
| CX7806 | Joust | | $8.00 |
| CX7806 | Joust (Complete, Used) | 1 | $6.00 |
| | | | $0.00 |
| | | | $0.00 |
| CX7809 | Robotron 2084 | | $11.00 |
| CX7809 | Robotron 2084 (Complete, Used) | 1 | $9.00 |
| CX7810 | Xevious | 1 | $8.00 |
| CX7815 | Ballblazer | 1 | $10.00 |
| | | | $0.00 |
| | | | $0.00 |
| | | | $0.00 |
| | | | $0.00 |
| CX7823 | Touchdown Football | | $10.00 |
| CX7824 | 1 On 1 Basketball | | $8.00 |
| | | | $0.00 |
| CX7826 | Summer Games | | $15.00 |
| | | | $0.00 |
| CX7828 | Super Huey UH-IX | | $15.00 |
| CX7829 | Hat Trick | | $10.00 |
| CX7831 | Winter Games | | $15.00 |
| | | | $0.00 |
| | | | $0.00 |
| CX7834 | RS Baseball | | $10.00 |
| | | | $0.00 |
| CX7836 | Crack'ed | | $12.00 |
| CX7837 | Dark Chambers | | $15.00 |
| CX7838 | Commando | | $25.00 |
| CX7844 | Crossbow | | $20.00 |
| | | | $0.00 |
| CX7846 | Ace OF Aces | | $25.00 |
| | | | $0.00 |
| | | | $0.00 |
| CX7849 | Donkey Kong Jr. | | $8.00 |
| CX7850 | Mario Bros. | | $12.00 |
| CX7851 | Fight Night | | $22.00 |
| CX7856 | Tower Toppler | 1 | $9.00 |
| CX7857 | Jinks | 1 | $9.00 |
| | | | $0.00 |
| | | | $0.00 |
| | | | $0.00 |
| | | | $0.00 |
| CX7861 | Mat Mania Challenge | | $25.00 |
| CX7862 | Ikari Warriors | | $28.50 |
| | | | $0.00 |
| | | | $0.00 |
| | | | $0.00 |
| | | | $0.00 |
| CX7870 | Ninja Golf | | $28.50 |
| | | | $0.00 |
| | | | $0.00 |
| | | | $0.00 |
| CX7875 | Meltdown | 1 | $8.00 |
| | | | $0.00 |
| CX7879 | Scrapyard Dog | | $16.00 |